Mission Statement and
About the History
To provide the best-in-class single wafer cleaning systems that enable our customers to achieve high productivity and yield gain

To provide our customers with a "True Green" technology that meets and exceeds the environmental sustainability (ESG) requirements of today and tomorrow
Founded to meet advanced semiconductor fabrication challenges in wafer cleaning

Shipped 100mm and 200mm systems to customers in production
Tools cleaned several million production wafers and realized yield gain of $1 million per month

Developed the Gen 2 advanced 300mm system, The Pulsar 3000 that is now ready for volume production

R & D to production experience
EXECUTIVE TEAM
Experience & Track Record For Success

Rob Randhawa, BSME – Founder/CEO
Founder of Planar Semiconductor; is the visionary who has conceptualized and led the development of Planar's unique technologies. Has personally raised nearly $30 million from his various high net worth contacts in the U.S., Australia, Japan, Malaysia, Singapore, and Taiwan.
Started his career in the area of machine design and development of wafer coating and early spray cleaning tools, as well as of an innovative type of robotic platform; several of these technologies were successfully deployed subsequently.
Has authored several patents and technology white papers.
BS in Mechanical Engineering from Bangalore University (India).
William WentWorth – CSO
The company is proud to announce the appointment of Mr. William Wentworth to the position of Chief Strategy Officer of Planar Semiconductor. Mr. Wentworth brings more than 35 years of experience in the semiconductors and technology sector. He has held CEO and SVP positions in both private and public companies and has excelled in creating and executing business strategies, while delivering significant returns for all stakeholders.
Co-Founder of Source Electronics Corporation in 1988 led a majority exit with HIG Capital in 2001. Navigated the business thought the 2001 Technology recession to a successful exit in 2008 to Avnet Inc. (Nasdaq: AVT. Moved to Phoenix (Avnet HQ) where he led the integration and doubled the BU's revenues in 4 years. Bill moved to Avnet TS as Global Sr. VP of Avnet. Spent 2 years Integrating 12 acquisitions to create Avnet Services. Named New Hampshire's Entrepreneur of the Year in 2001, Finalist for the Ernst & Young Entrepreneur of Year Award in 1999, 2000, and 2001.
Spending the last 6 years working with Private Equity and Family finding valued assets to invest and grow. Bill brings significant experience in M/A and Utilizing his wealth of experience across the technology sectors.
Jonathan Meyers – CFO
Jonathan Meyers has 40+ years providing capital-raising and financial advisory services to businesses throughout the semiconductor industry (including numerous semiconductor capital equipment companies) as a technology investment banker​. He joined Planar in 2014.
Previously, headed technology banking practices at leading firms, including Lehman Brothers and UBS, and co-founded a technology banking boutique (SoundView Technology Group)​. Has served as a board member of major semiconductor and other technology-driven companies.
Has an MBA from Harvard Business School​.
Harry Christov – EVP, Engineering and NPD
Harry Christov has more than 26 years experience in the semiconductor industry​. Specializes in new product development, ranging from proof of concepts, design, and engineering to production and support. Recruited in 2005 to manage the team which developed and built Planar's 300mm wet cleaning production tool. Most recently, designed a next-generation hybrid wet/dry cleaning and drying chamber for Planar​.
Managed the development of a multi-chamber dry clean/etch tool for Novellus Systems. Earlier, designed and developed multiple projects for Gasonics International and was a product manager for Genmark Automation​.
Has an MS in Electrical Engineering from Technical University (Sofia, Bulgaria) and has authored several patents.
Dr. Fabio Pintchovski – Chief Technical Advisor
Dr. Fabio Pintchovski has 27 years in the semiconductor industry, including 22 years at Motorola, where he defined strategy and directed the development of leading-edge materials and process technologies at its Advanced Products Research and Development Laboratory, and in strategic business development at KLA-Tencor​. Has 14 patents granted and is a Motorola Dan Noble Fellow​.
Has a Ph.D. in Solid State Chemistry from Brown University.
Madhu Pittan – VP, Process Engineering
Madhu Pittan has been active in the semiconductor industry for over 20 years, including 15 years at Chartered Semiconductor Manufacturing (now GlobalFoundries) as Wet Etch (Clean) Section Manager​. Joined Planar Semiconductor in 2014​. Interface with various global customers to identify cleaning challenges and to develop wafer cleaning and drying processes (particularly, using "green" chemistries) which address these challenges​.
Participates in Planar's R&D activities, focusing on new tool variants and next-generation process development.
Has a BSc (Hons) in Engineering Business Management from Coventry University (England)​.
The Team – Facts
Executive team has extensive industry background and experience in wafer cleaning technologies – over 100 years of collective experience

Deep engineering and manufacturing expertise

Fast track research to production expertise

All members significantly/financially vested in the company – guaranty for success
The Problem
Current Wafer Cleaning Technologies

Damages advanced structures on wafers during cleaning and drying – Yield issue

Cannot clean all wafer surfaces simultaneously with identical efficiency – a must have for advanced wafer fabrication

Current Technologies have not changed or evolved to meet the current and future IC fabrication challenges – no technology flexibility/longevity

Very high use of toxic chemicals and their subsequent waste disposal – the cost and ESG compliance
Industry Problems for
advanced IC fabrication – Illustrated
Available Competitive Solutions: critical clean and strip (pre-gate, post-gate, post-implant, silicide, contacts, etc.) performed less than ideally
The Solution:
The Planar Pulsar 3000​ Performance

Problems/Challenges Addressed
Wafer cleaning – most repeated step in IC fabrication – Any damage to the structures on the wafer directly impacts yield and bottom line for IC manufacturers

Planar machine, Pulsar 3000 eliminates damage to advanced structures – yield enhancement and better bottom line for IC manufacturers

Use of highly toxic chemicals causes both safety and environmental concerns – Planar green chemicals and ultra dilute chemistries solves both safety and environmental concerns

Conventional machines have to clean front and backside of the wafer separately – Planar machine cleans all sides simultaneously resulting in high productivity and lower cost
Planar machines provide yield enhancement, green process and high productivity – Patent protected cleaning and drying performance
Planar's Patented Wafer Cleaning Breakthroughs
VERTICAL SINGLE WAFER CLEANING

Simultaneous cleaning of front, backside, and edge of the wafer with identical efficiency

Small footprint, but high productivity
Built-in mechanical agitation without damaging advanced structures for better particle removal

Multiple nozzle combinations to address any type of wafer cleaning application
4 Chemistries

Up to four chemicals (liquids and/or gases) plus DI water – mixed to desired formulation and dilution – can be sprayed on the front and the backside of the wafer simultaneously or separately, with each chemical recipe set differently
Portfolio of "GREEN" Aqueous and Semi-aqueous Chemistries

Potential replacement of hot sulfuric peroxide, NMP solvent, and others
Yield enhancement results unavailable when using conventional technologies

No damage to FEOL structures

Elimination of difficult defects which otherwise cannot be removed
Planar's Patent-Pending Wafer Drying Breakthroughs
Pulsed-jet Process Chamber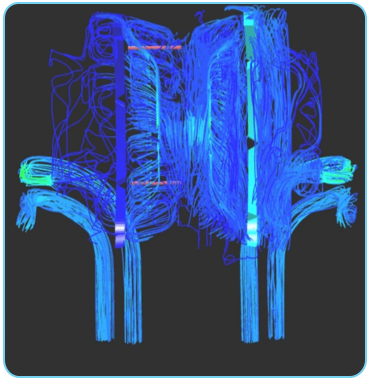 N2 Atmosphere Exchange Removes Suspended Particles in the Vicinity of the Wafer
N2 Atmosphere Exchange Drying Cycle
Low-speed vertical drying without structure bending or collapsing
Proprietary atmosphere exchange inside the chamber

No damage to structures and no watermarking
PRODUCTS
Single wafer vertical wafer processor

All surfaces cleaned simultaneously with identical high efficiency

Yield enhancement by design – no damage during cleaning and drying

FEOL/BEOL applications – critical and scrubber cleans

All wetted parts mil-spec Teflon coated

2 chamber high throughput, small footprint system
          – Multiple chamber options available

Up to 4 chemistries per chamber with programmable mixing/dilution capability
Planar's Pulsed Hydro-jet Technology
Physics of creating various size droplets using a special electrical pump that uses the incompressible properties of DI water to create mechanical agitation in such a way as to impart energy in a unique shock wave vector to remove the particles/contaminants without causing damage to the advanced/fragile structures

Droplets fired at the vertical wafer via manifolds on both sides of the wafer covering the entire wafer including its edge

Size of the droplets and shockwave vector combined produces excellent particle removal from flat and deeply contoured surfaces

Spray video

Machine video

Drying technology video
Pulsar 3000: Reliability Model Prediction
Illustrative Model of the Pulsar 3000 production tool exceeds lab goals for MTBF
Contributing factors to the outstanding Pulsar 3000 results:
Sound design practices: use of overrated components (e.g., using NSK bearings for the pass-through at the axis of rotation)

Specifications of major components and revision control: stringent QC sheet discipline with the manufacturer of the machine parts – actual vs. specification recorded

Extensive time of nearly four years during which Planar Semiconductor has had the opportunity to improve and test the tool and all its components and assemblies. Some major assemblies are on their seventh iteration, as evident from the technical documentation
Conclusion: Planar's Pulsar 3000, as currently designed, will meet and exceed wafer fab reliability requirements
Vertical Wafer Cleaning and Drying is the Future
True Green Technology
Environmental-Social-Governance – ESG
OVERVIEW
The semiconductor industry is known for using large amountof water and toxic chemistries.

Mandated ESG disclosures in public company filings – Under review by SEC

ESG disclosure by Nasdaq listed companies – Under review as a rule change by SEC
SEMICONDUCTOR EQUIPMENT & ESG
Uses millions of gallons of water?

Uses harsh chemicals like sulfuric acid, solvents and hydrofluoric acid and more…
PLANAR SEMICONDUCTOR & ESG
Planar tools reduce the use of concentrated chemicals by an order of magnitude due to its pulsed-jet system

Planar tools can address multiple cleaning applications with just DI water and or highly diluted chemistries due to its pulsed-jet system that adds tremendous mechanical energy to clean

Planar "green chemistries" are specially formulated to replace harsh solvents and sulfuric peroxide mixtures for advanced wafer processing​

Planar wafer drying technology drastically reduces the use of solvents due to its proprietary technique​